Namibia Safari Corporation
Jaco van der Merwe, owner and experienced PH, and his team welcomes you to Namibia Safari Corporation. The family-owned hunting ranch stretching over 167 square miles in the Khomas region of central Namibia, 100 miles South-west of Windhoek.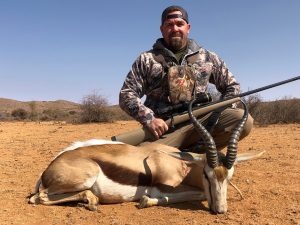 With no high fences, and total fence-free on one side, fair chase hunting does not come any better. Bow and rifle hunters are welcome. The large terrain supports a variety of species, incl leopard, plains game as well as Hartmann Zebra and Klipspringer, both endemic to Namibia. Talk to us about hunting Cape buffalo, elephant, lion, hippo and crocodile, that will be done with us in a different hunting concession.
Jaco, with our experienced team of trackers and skinners ensure that clients return home with award- winning trophies and great hunting memories. Due to the vastness of the ranch, the hunt will always start by hunting vehicle, and as soon as animals or fresh tracks are spotted, the stalk will usually continue on foot.
Luxury accommodation is provided in our COVID 19-compliant lodge, in African Thatch style. Rooms are en-suite, with heaters and fans, daily laundry service and a sparkling swimming pool. At the end of a great hunting day, nothing beats toasting to great hunting with beer from our on-site microbrewery around the fire, followed by a home cooked meal or game dishes prepared on the fire.
The Namibia Safari Corporation team look forward to welcome you, your family, and friends in Namibia for an unforgettable African experience! 
THE BEST!